Product Description
WeeTaach 70 inches AI touch panel with Automatic stand
WeeTaach is a golden touch control smart screen series of Guangzhou Ruixin Touch Control Technology Co., Ltd. specially designed for overseas markets. Slim and fashionable designs, ultra-high definition images and friendly user interfaces helped to build up our excellent reputations among the industry. This RXZG-7006B Premium model consists of a standard 7006B smart panel and a motor-driven stand. The following is the description of 70 inches AI touch panel with Automatic stand.
I. Main Features:
1. Model: RXZG-7006B Premium.
2. Dual-system: Android Ver. 8.0 or above, and Windows 7/10 or customized.
3. Reliable, precise and responsive touch control technologies supporting 10-point touches.
4. 4K UHD resolution display with anti-glare, anti-strong-light and anti-EM interferences.
5. Front UI and control buttons to ensure easy & friendly user`s experiences.
6. Smart hardware screen sharing supporting max. 4 mirroring sub-screens, plus max. 12 other devices (desktop, laptop, pad, or mobile phones) online and ready to be shared.
7. Energy saving design with one-button shutting down screen or turning off PC module (left Android system running alone). Double knock at the screen to wakeup screen.
8. Stylish design & solid structure of the complete machine.
9. Enterprise & Product certifications i. e. ISO9001, CE, FCC, CCC, RoHS, etc.
10. Virtual whiteboard with powerful built-in functions such as zoom-in, zoom-out, drag, rotation, annotation etc.
11. OPS PC modules for easy upgrade or after-sales services.
12. Once-and-forever business partnership due to outstanding & unique cost performance.
II. Product Illustration: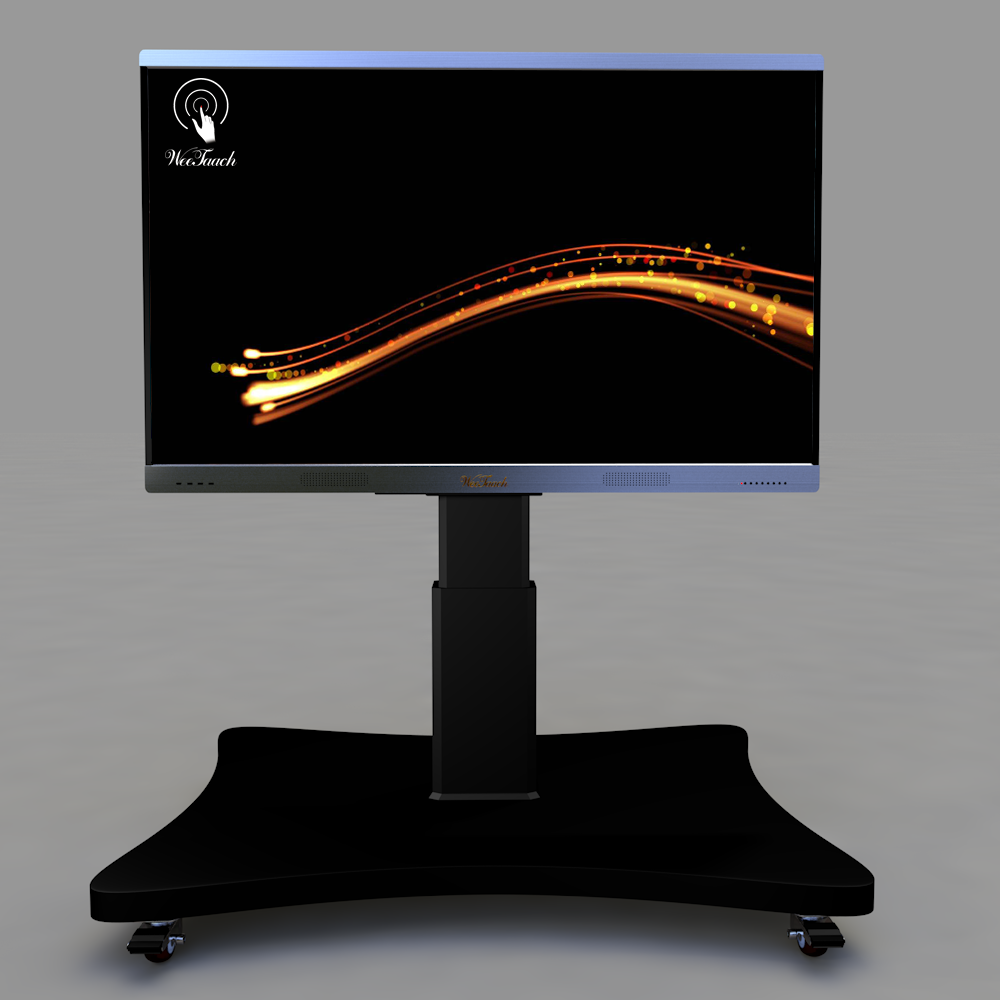 III. Main Parameters:
1. Display
Screen size: 70 inches
Screen type: LED back lighted
Max. display size (mm): 1549 (H) x 871 (V)
Resolution (pixel): 3840 (H) x 2160 (V)
Display ratio: 16:9
Brightness: More than 350 cd/m2
Contrast (static): 1200:1
Viewing angle: 178o x 178o
Touch Surface: Tempered glass (Mohs 7 grade, anti-glare & explosion-proof)
Life span: More than 30000 hours
2. Touch control system
Touch mode: Infrared recognition
Response time: more than 8 ms
Touch media more than 5 mm (opaque objects i.e. fingers or stylus)
Multi-touch: Yes (10 touches)
3. Android system
OS version: Android 8.0 or above
RAM: 4G
Storage memory: 32G
4. PC system (OPS module)
CPU: Intel i7
OS: Win 7/10, or customized
RAM: 8G
Hard disk (SSD): 256G
Graphics card: Integrated Graphics
Sound card: Integrated high-definition stereo sound card
Network card: Integrated 10/100/1000M adaptive network card
Wi-Fi: Wireless network card 802.11b/g/n
5. Power supply
Input power: AC 100~240V, 50/60 Hz (self-adaption)
Power consumption: 300 W
Standby consumption: less than 0.5W (power off)
6. Size and weight
Machine size: 1686.4x1043.2x97.9 mm (length x width x thickness)
Package size: 1857x260x1214 mm (length x thickness x height)
Net weight: 62 kg
Gross weight: 78 kg
IV. Automatic stand
1. Applicable to 65-86 inch LCD/LED TV, Smart Panel, Signage etc.
2. Maximum load: 130kg.
3. VESA Installation hole distance: 1000x600mm.
4. Material: cold plate + square pass.
5. With 2.5-inch heavy-duty & self-locking casters.
6. Control Mode: wireless remote control, or manual control.
7. Electric flip angle: 0-90 degrees.
8. Lift lift distance: 1000-1500mm.
9. Color :black.
Note: The technical specifications herein are for reference only. We remain the rights to upgrade without prior notice.