Product Description
WeeTaach 75 inches interactive PC with Automatic stand
WeeTaach is a first-class infra-red touch control smart board series of Guangzhou Ruixin Touch Control Technology Co., Ltd. that satisfy the requirements of high-end users from all over the world. To ensure the best performance of the products, we focus on every details during production. And this explains why we have so many returned customers.This RXZG-7506B Premium model consists of a standard 7006B smart panel and a motor-driven stand. The following is the description of WeeTaach 75 inches interactive PC with Automatic stand.
I. Main Features:
1. Model: RXZG-7506B Premium.
2. Dual-system: Android Ver. 8.0 or above, and Windows 7/10 or customized.
3. Reliable, precise and responsive touch control technologies supporting 10-point touches.
4. 4K UHD resolution display with anti-glare, anti-strong-light and anti-EM interferences.
5. Front UI and control buttons to ensure easy & friendly user`s experiences.
6. Smart hardware screen sharing supporting max. 4 mirroring sub-screens, plus max. 12 other devices (desktop, laptop, pad, or mobile phones) online and ready to be shared.
7. Energy saving design with one-button shutting down screen or turning off PC module (left Android system running alone). Double knock at the screen to wakeup screen.
8. Stylish design & solid structure of the complete machine.
9. Enterprise & Product certifications i. e. ISO9001, CE, FCC, CCC, RoHS, etc.
10. Virtual whiteboard with powerful built-in functions such as zoom-in, zoom-out, drag, rotation, annotation etc.
11. OPS PC modules for easy upgrade or after-sales services.
12. Once-and-forever business partnership due to outstanding & unique cost performance.
II. Product Illustration: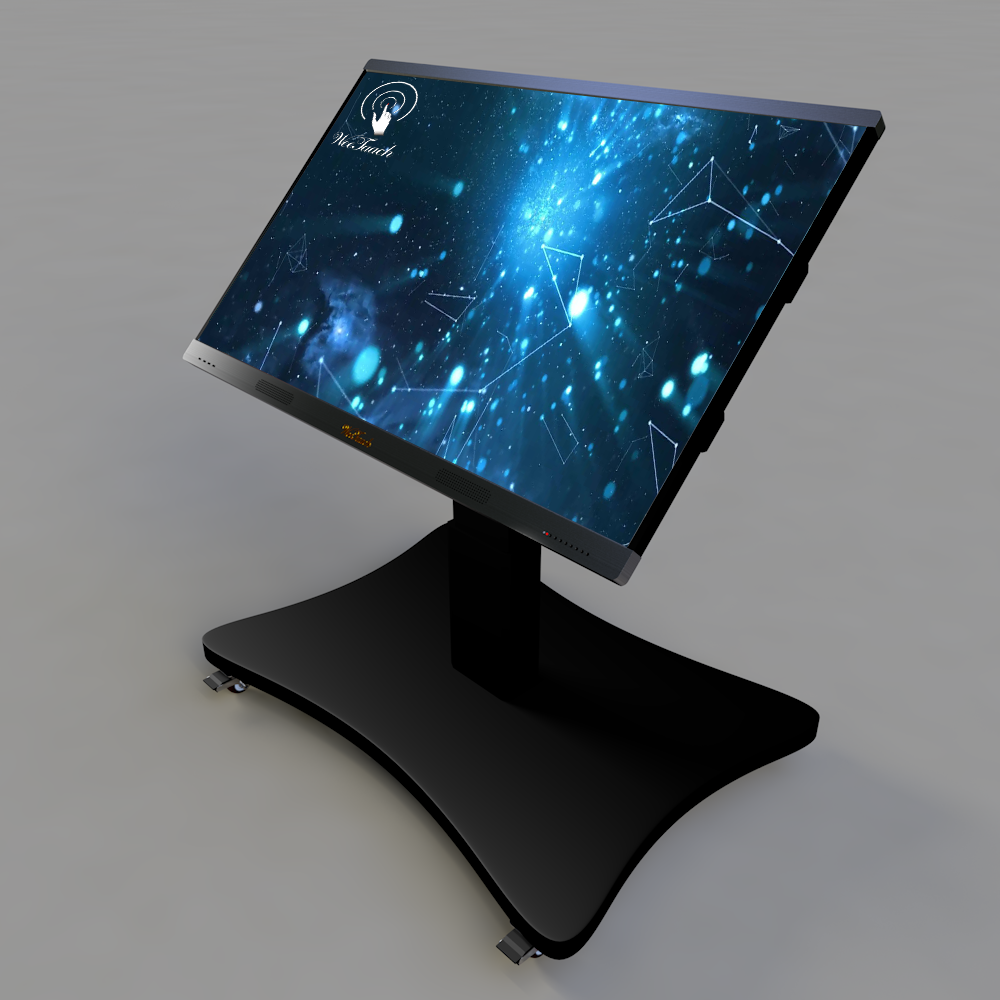 III. Main Parameters:
1. Display
Screen size: 75 inches
Screen type: LED back lighted
Max. display size (mm): 1650 (H) x 928 (V)
Resolution (pixel): 3840 (H) x 2160 (V)
Display ratio: 16:9
Brightness: More than 350cd/m2
Contrast (static): 1200:1
Viewing angle: 178o x 178o
Touch Surface: Tempered glass (Mohs 7 grade, anti-glare & explosion-proof)
Life span: More than 30000 hours
2. Touch control system
Touch mode: Infrared recognition
Response time: less than 8 ms
Touch media: More than 5 mm (opaque objects i.e. fingers or stylus)
Multi-touch: Yes (10 touches
3. Android system
OS version: Android 8.0 or above
RAM: 4 G
Storage memory: 32 G
4. PC system (OPS module)
CPU: Intel i7
OS: Win 7/10, or customized
RAM: 8 G
Hard disk (SSD): 256 G
Graphics card: Integrated Graphics
Sound card: Integrated high-definition stereo sound card
Network card: Integrated 10/100/1000M adaptive network card
Wi-Fi: Wireless network card 802.11b/g/n
5. Power supply
Input power: AC 100~240V, 50/60 Hz (self-adaption)
Power consumption: 350 W
Standby consumption: less than 0.5 W (power off)
6. Size and weight
Machine size: 1759.4x1077.8x106.3mm (length x width x thickness)
Package size: 1930x270x1248 mm (length x thickness x height)
Net weight: 69 kg
Gross weight: 87 kg
IV. Automatic stand
1. Applicable to 65-86 inch LCD/LED TV, Smart Panel, Signage etc.
2. Maximum load: 130kg.
3. VESA Installation hole distance: 1000x600mm.
4. Material: cold plate + square pass.
5. With 2.5-inch heavy-duty & self-locking casters.
6. Control Mode: wireless remote control, or manual control.
7. Electric flip angle: 0-90 degrees.
8. Lift lift distance: 1000-1500mm.
9. Color :black.
Note: The technical specifications herein are for reference only. We remain the rights to upgrade without prior notice.