Product Description
98 inches Classroom interactive panel
WeeTaach is a high-end IR touch control whiteboard series of Guangzhou Ruixin Touch Control Technology Co., Ltd. aimed at overseas markets. The top-quality panels help classroom education, career training and wireless video conference to become interesting, interactive and inspiring. The following is the description of WeeTaach 98 inches Classroom interactive panel.
I. Main Features:
1. Android and Windows dual operating system, Android 8.0 (or higher) version, win7/10 (or customer specified version).
2. Reliable, accurate and instant response touch technology, support 10 touch.
3. 4K ultra clear display, anti-glare, anti-environment glare, anti- electromagnetic interference.
4. Front panel interface and buttons for easy operation and excellent user experience.
5. Smart wireless projection supports up to 4 users in the same frame, with a total of 16 users online. Support desktop, notebook, tablet and mobile screen.
6. Green energy-saving design, one button to close/wake up the big screen, one button to close/open the PC end when the Android terminal operates.
7. The appearance of the whole machine is beautiful and fashionable, and the structure is firm and safe.
8. Enterprises and equipment are certified by high-tech enterprises, ISO9001, CE, FCC, CCC, and RoHS.
9. The virtual whiteboard comes with powerful white version software, which can enlarge, reduce, drag, rotate and annotation, file sharing through QR code scanning, etc. (QR=Quick Response, QR code One)
10. Plug-in OPS modular PC is easy to upgrade and easy to maintain.
11. Excellent value for money to ensure that a transaction becomes a permanent partner.
II. Product Illustration: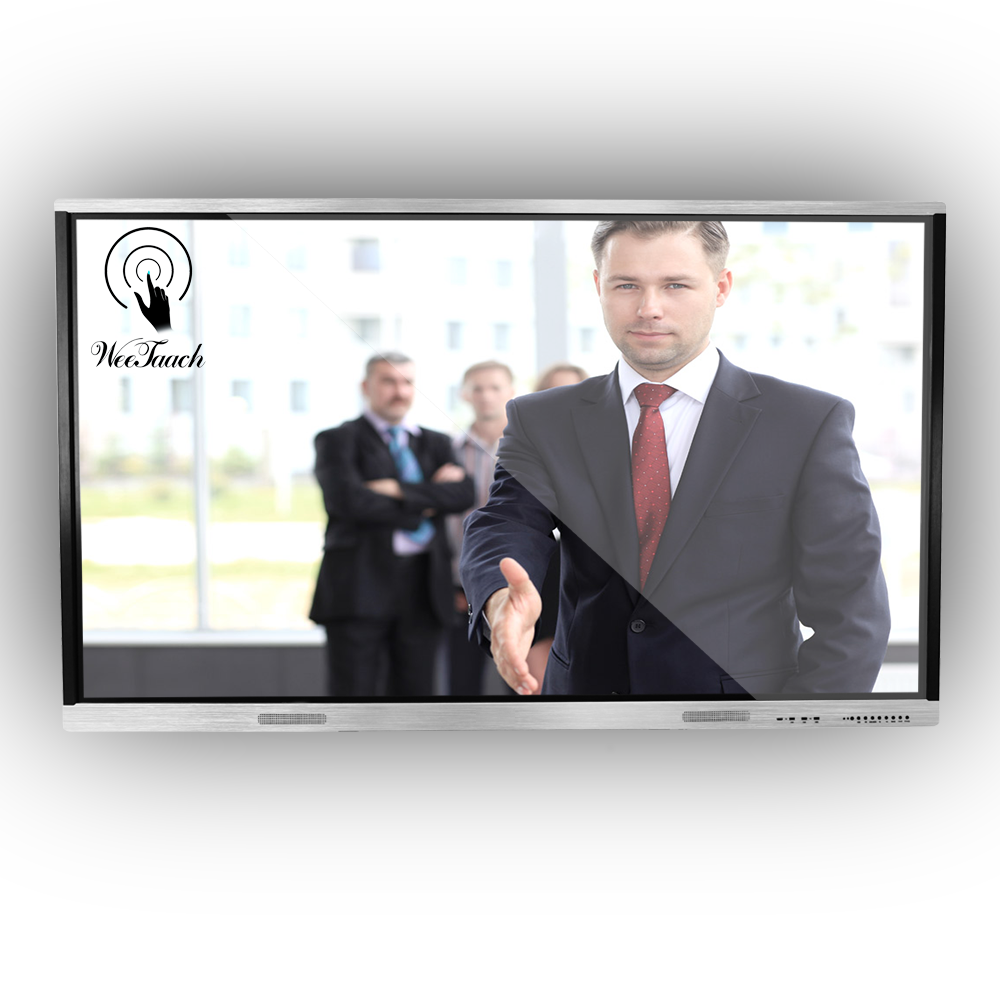 III. Main Parameters:
1. Display
Screen size: 98 inches
Screen type: LED back lighted
Max. display size (mm): 2159 (H) x 1214 (V)
Resolution (pixel): 3840 (H) x 2160 (V)
Display ratio: 16:9
Brightness: More than 350cd/m2
Contrast (static): 1200:1
Viewing angle: 178o x 178o
Touch Surface: Tempered glass (Mohs 7 grade, anti-glare & explosion-proof)
Life span: More than 30000 hours
2. Touch control system
Touch mode: Infrared recognition
Response time: Less than 8 ms
Touch media: More than 5 mm (opaque objects i.e. fingers or stylus)
Multi-touch: Yes (10 touches)
3. Android system
OS version: Android 8.0 or above
RAM: 4 G
Storage memory: 32 G
4. PC system (OPS module)
CPU: Intel i7
OS: Win 7/10, or customized
RAM: 8 G
Hard disk (SSD): 256 G
Graphics card: Integrated Graphics
Sound card: Integrated high-definition stereo sound card
Network card: Integrated 10/100/1000M adaptive network card
Wi-Fi: Wireless network card 802.11b/g/n
5. Power supply
Input power: AC 100~240V, 50/60 Hz (self-adaption)
Power consumption: 500 W
Standby consumption: less than 0.5 W (power off)
6. Size and weight
Machine size: 2254x1346.9x99.5mm (length x width x thickness)
Package size: 2420x270x1510mm (length x thickness x height)
Net weight: 164 kg
Gross weight: 180 kg
Note: The technical specifications herein are for reference only. We remain the rights to upgrade without prior notice.